Circus Class, Open Circus and Circus Parties with Christine Landon
NO CLASSES OFFERED AT THIS TIME.
INQUIRE FOR PRIVATE LESSONS!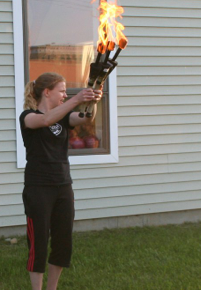 Come one, come all to the Circus for All! Children will learn the art of juggling, spinning plates, unicycling, devil sticks and more. Focus will be placed on cooperating with others and competing with self. Much encouragement will be provided to kids so they can attain goals and reach personal excellence at their own pace. We will develop concentration, persistence, patience, and confidence in a fun and positive environment. Children will be taught how to keep three balls in constant motion, balance spinning plates, toss devil sticks, create human pyramids and much more!
Christine Landon first began her circus career at Florida State University's circus. She performed swinging trapeze, high wire, Spanish web and juggling. Christine also coached and rigged while earning a B.S. degree in criminology and a M.S. degree in sports admin. She has also taught circus to kids at Trapeze Arts in Oakland, CA, Cirkidz in Australia, Cirque du Soleil's Cirque du Monde in Orlando, FL, and all around New England working for Circus Smirkus. Recently Christine has started her own program, Circus For All, and continues to teach youth circus and gymnastic skills.