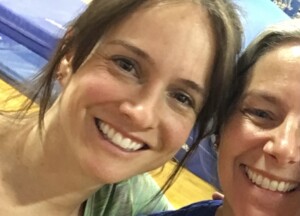 Ali Christenson
Preschool Gymnastics
Ali's love for gymnastics started early. She began recreational classes at age five at the American School of Gymnastics in Keene, NH. She competed as a level seven until age twelve. Although she stopped gymnastic fairly early, she benefited from her training in many areas throughout life especially recognizing correct body position in various sports. Cobra stresses safety rolls in the rec classes; teaching children how to fall correctly. She thanks the preventative aspects of gymnastics for keeping her on her feet!
Ali earned a BS in Child Development in 2005 from Colby-Sawyer College. Through UVM she completed the courses for a license in Early Childhood Education. The gym is the best of both worlds for Ali: she gets to teach children while staying active!!
Ali was the previous pre-school and recreation director at Cobra beginning in 2012.  She took a short break to grow her two children and has now returned to our staff in 2021 as one of our pre-school coaches! We are so excited to have her and her daughters in the gym with us!