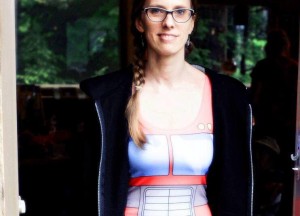 Lori Bullett
Gymnastics Coach
Ever since Lori Bullett was a young girl, she has loved to dance and flip around.  She feels very fortunate to have taken dance and gymnastics lessons from pre-school age all the way through junior high.  She believes those years spent taking lessons, where she regularly engaged with her physical body has provided her with a solid foundation of flexibility, balance and strength that is so important to remaining healthy throughout her life.  As an adult, that foundation formed through gymnastics has allowed her to succeed in other activities such as skiing, snowboarding,
kayaking, yoga, and dance.
Three years ago, Lori walked in to Cobra looking for a preschool tumbling class for my son and walked out with job coaching.  Being given the opportunity to work in such an amazing facility as Cobra is so exciting.   The equipment and props used in teaching has come along way since she was kid.  As she approaches 40, she loves continuing to learn and help a younger
generation to learn a sport as great as gymnastics!