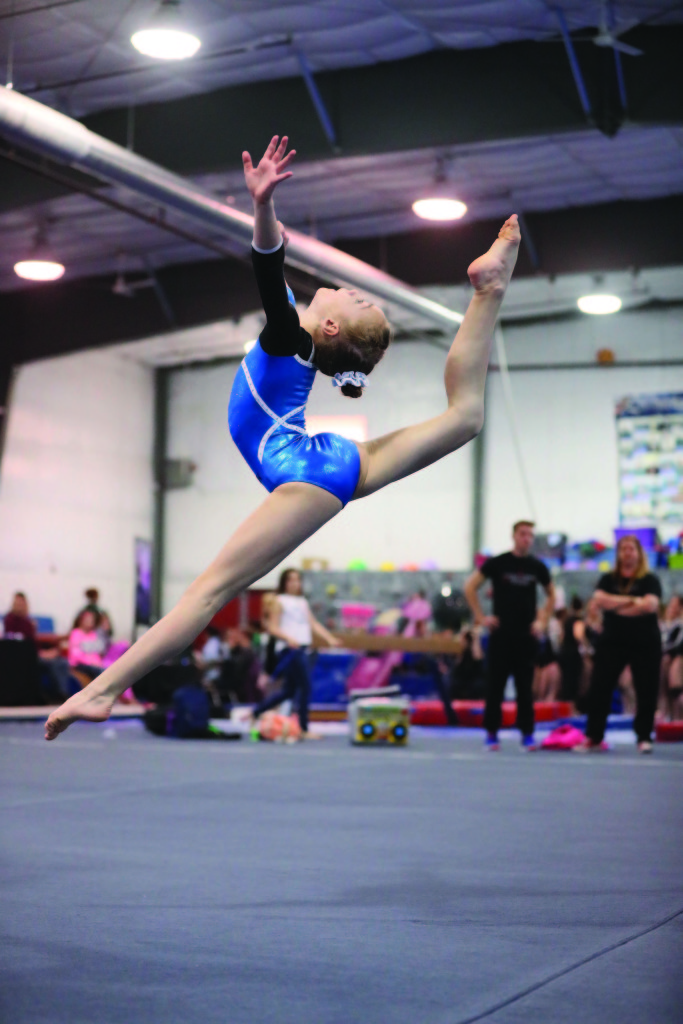 RUTLAND—The Cobra Gymnastics team recently competed in the 2017 Hip Hop Classic at Woodman Athletics in Brattleboro, Vt. Teams traveled from New Hampshire, Massachusetts, Connecticut and Vermont to compete across eight sessions. This highly anticipated meet was fiercely competitive and full of energy, according to the Cobra coaches. With true dedication, the girls put their hard work, grace and style into all their events, said Coach Shelby Collett. "We love attending the Hip Hop Classic each year.  It gives us a chance to compete locally in Vermont, but to go against a diverse group of athletes from New England.  With our state meet just three weeks away, the tougher competition allows our athletes to prepare both mentally and physically," Collett added.
Despite the competition, the Cobra Gymnastics Level 6 Junior Olympic team took home the first place team trophy. The Level 7 team also took second and the Levels 3 and 4 both took third place. In the Xcel team competitions, the Bronze team took fourth place and the Silver and Gold teams both took fifth place.
Individually, the Cobra gymnasts also secured many podium finishes. Here are the first place finishes in each division.
Xcel Silver
Jayla Eugair – Vault 9.2
Caitlyn Giffin – Beam 9.475
Xcel Gold
Abigail McChesney – Bars 9.625
Sarah Martin – Beam 9.1, All Around 35.150
JO Level 3
Harper Wilson – Beam 8.575
JO Level 4
Emma Parker – Bars 9.050
Robin Tashjian – Vault 8.85
JO Level 6
Maleah Jones – Beam 9.325, Floor 9.475
Mia Marsh – Floor 9.525
Lili Zens – Floor 9.6
MacKenzie Carlson – Beam 9.1, Floor 9.45
Ella Tashjian – Vault 9.25
JO Level 7
Ella Tashjian – Bars 8.75, Beam 9.4, Floor 9.3 and All Around 37.00
Coming up this weekend, the gymnasts will be competing at the Friendship Classic in Bow, N.H. on March 4. On March 5, Cobra Gymnastics will be hosting a Sectional meet in Rutland.
Photo by Team Photo, courtesy of Cobra Gymnastics
Maleah Jones demonstrates her technique for 1st place floor and balance beam.
– See more at: http://mountaintimes.info/cobra-gymnastics-shines-hip-hop-classic/#sthash.GSLSqfGW.dpuf