Noyes Nature Rhythm with Emily Arwen Mott
January 6th, 2018
About Emily:
Emily Arwen Mott is a musician, dancer, and masseuse. She has taught the Noyes Nature Rhythm movement system to adults for 15 years and is now a program director for the Noyes School of Rhythm in Portland, CT. Emily is fascinated with the deep creativity and healing that comes from awakening the body's intelligence. She expresses her love for the world through teaching, touch and composition. Emily runs a private music instruction studio, music and movement classes for children, and is certified as a therapeutic horseback riding instructor.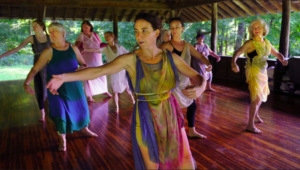 Class Description:
All bodies are welcome to find joy in nature's rhythms– a movement class of meditative and inspiring flow. This 100-year-old system, developed by Florence Fleming Noyes, strengthens and releases the body and spirit through invigorating playfulness, deep relaxation, and dynamic alignment guidance. Learn strengthening techniques like Forest Breathing and the Panther, and be led on a creative movement unfoldment based on earth's nature and accompanied by beautiful music. Silks provided.